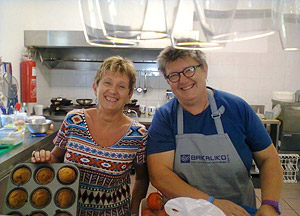 We are Agnes and Susanna – 2 Hungarian women who came to Crete, fell in love… with the island and decided to stay.
We are passionate about the beauty and bounty of Crete, the way of life, and of course the Cretan foods & wines.
Our aim is to increase awareness of the superior quality and diversity of Cretan and Greek products.
Living here for so many years and having travelled to every corner, we have discovered (and continue to do so) amazing foods and ingredients which we would like to share with those who visit Crete and for those who would like to savor the tastes they've discovered and to continue the experience by recreating them back home.
After extensive research into the newly emerging and ever-changing Greek Fine Foods market, we bring you what we consider to the best and most original products. Our search is an on-going one and we are continuously updating our shelves and our web-shop.
We are excited about bringing BAKALIKO to your doorstep.
We love hearing from our customers and we always welcome all personal inquiries. If you are ever in the Archanes area, stop into our store and see us in person. Otherwise, feel free to contact us at info@bakalikocrete.com